Remarks:
Be sure your in "model" module (press 1)
Works with XSI 1.5 and more only

---
start with a polymesh cube: Get->Primitive->Polygon Mesh->Cube
set these values : u:3 v:3 base:1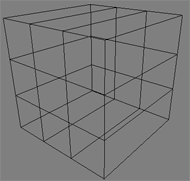 if you dont have somthing like this something went wrong.
---
get property->geometry approximation
mesh subdivision level to 2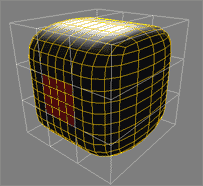 select the polygon with the U-key that is in the middle

---
move this polygon in front so it looks like the following pic:

using the Select->Select Adjacent->Edges u have 4 edges selected,


---
we are now going to make the "hard" (hum) in terms of subdivision:
Modify ->Component -> Make Hard Edges/Vertex



as you can see you really have hard edges now ! Softimage never lies :-))
you can test it with vertices also: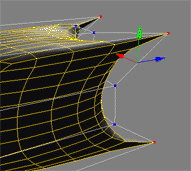 ---
now go to the back of the deformed cube and selet the 3 edges as sown in the figure: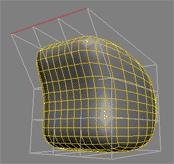 and instead of Marking the component as Hard or not you can set a value for this.
Modify->Component-> Set Edge/Vertex Crease Value

This is what u can get if you set the EdgeCrease Value high enough: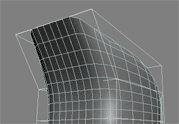 See it move in real time? It looks like if this was a sort of Magnet Value !
---
no © 2000 - tutorial par Olivier Amrein